JQ: Episode 02.10
Jump to navigation
Jump to search
JourneyQuest wiki.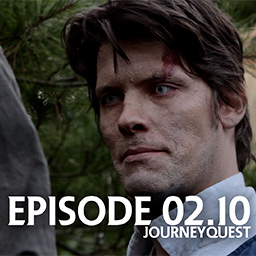 SYNOPSIS
The Wicked Kings take possession of Starling, Wren and Rilk just don't speak the same language when it comes to their duties, Perf gets advice from Strong Like Bull and a new mission for the group, and Glorion discovers the depths of the group's betrayal.
CONNECTIONS
FEATURED CAST
Perf - Christian Doyle
Nara - Anne Kennedy Brad
Carrow - Brian Lewis
Glorion - Kevin Pitman
Roderick - Nathan Rice
Karn- Bob Sapp
Strong Like Bull - Scott C. Brown
Sword of Fighting - Jeremy Spray
Wren - Emilie Rommel Shimkus
Silver Tom - Fran Kranz
Rilk - Jesse Lee Keeter
Starling- Jen Page
Death - Paige Barnett
Leila Blue Aram-Panahi reprises her Season 1 role of "Sword Hands."
BEHIND THE SCENES
COMMUNITY LINKS
Discuss this episode on the forums [1].
View this episode at zombieorpheus.com [2]