JQ: Episode 03.02
Jump to navigation
Jump to search
JourneyQuest wiki.
SYNOPSIS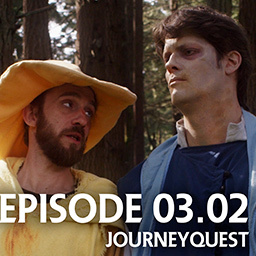 Wren meets her unexpected rescuer and makes a deal for room and board. Meanwhile, Perf, Nara, and Carrow enter a dwarven mining village and discover a real tavern. With real beds. And real beer...
CONNECTIONS
FEATURED CAST

Perf - Christian Doyle
Nara - Alyssa Kay
Carrow - Brian Lewis
Glorion - Kevin Pitman
Roderick - Nathan Rice
Sword of Fighting - Jeremy Spray
Wren - Emilie Rommel Shimkus
Silver Tom - Fran Kranz
Rilk - Jesse Lee Keeter
Silver Tom- Fran Kranz
Death - Paige Barnett
BEHIND THE SCENES

The mining village was shot at Fort Nisqually, where the original Gamers film was shoot in 2000.
The tavern interior was built inside a church auditorium.