JQ: Episode 02.06
Jump to navigation
Jump to search
JourneyQuest wiki.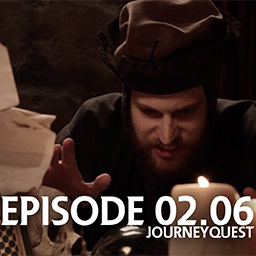 SYNOPSIS
The master of the Temple of all Dooms grows ever frustrated. Carrow tries to find his way through the City of the Dead not knowing he is watched. Nara and Strong Like Bull have a talk regarding Perf. Karn is caught in a lie by Starling and the two fight with disastrous ends. Wren follows her party and must cross the City of the Dead while Silver Tom looks on making a discovery.
CONNECTIONS
FEATURED CAST
Glorion - Kevin Pitman
Carrow - Brian Lewis
Perf - Christian Doyle
Nara - Anne Kennedy Brad
Strong Like Bull - Scott C. Brown
Karn - Bob Sapp
Starling - Jen Page
Wren - Emilie Rommel Shimkus
Silver Tom - Fran Kranz
Death - Paige Barnett
BEHIND THE SCENES
COMMUNITY LINKS
Discuss this episode on the forums [1].
View this episode at zombieorpheus.com [2]