Colonel Baker
Jump to navigation
Jump to search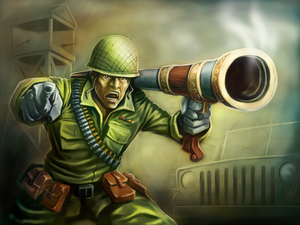 Colonel Frank Baker was a leader of the Displaced faction of Countermay.
History
Frank Baker was originally from Boise, Idaho[1] and was stationed as a sergeant at a US military base at Los Alamos, New Mexico in 1945. He was a good boxer, having won matches organized by Specialist Jonesie and Major Jeffery Collins, and popular among his fellow soldiers. He had a reputation among his fellow soldiers for being a hot head who nevertheless had earned his rank through hard work.[2]
On one occasion when Myriad Buxtehude and Tuatha Dundareel were questing for the Djinn's lamp, Colonel Baker followed with two other members of his faction. When they attempted to take the lamp, Dundareel put down the other two with magic, and Buxtehude knocked out Baker with a solid punch.[3][4]
References