TGNO: Episode 04.01
Jump to navigation
Jump to search
The Gamers: Natural One wiki.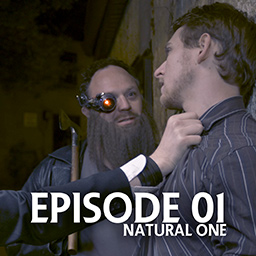 SYNOPSIS
Monica finds her fiancé, Ryan, while willing to learn, is not finding his place in the gaming world. Gary and Leo find new games to play to pass the time at the game store. Gary finds himself on a quest to save his sister, Monica from a life with a nongamer. Ryan finds himself in the world of Cyberrun fighting to save his chance with Monica.
CONNECTIONS
FEATURED CAST
Gary - Christian Doyle
Leo - Scott C. Brown
Ryan - Daniel Bradford
Harper - Thomas Gofton
Monica - Monica Zelak
BEHIND THE SCENES
Gary's ringtone is the intro music for JourneyQuest.
COMMUNITY LINKS
Discuss this episode on the forums [1].
View this episode at zombieorpheus.com [2]