Difference between revisions of "Metaverse:Nick Krieger"
Jump to navigation
Jump to search
Line 2:
Line 2:
 
 
 
 
−

[[File:MOTMNick2.jpg]]

+

[[File:MOTMNick2.jpg]]

 
 
 
 
---
Revision as of 18:45, 4 June 2017
Player Matt Vancil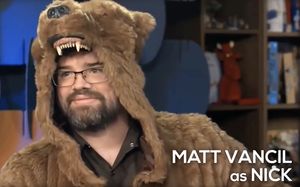 One of the most mysterious figures that the group has encountered so far, Nick Krieger is a highly experienced metapilot who refused to leave his avatar. The program sent the team in after him, telling them that Nick was trapped and unable to return. This was clearly not the case and Nick was not happy to find that he was being sought out. Giving the group several dark warnings as to the project's true intentions, Nick also confirmed their suspicions that they were in fact carrying back imprints of their avatars back into the real world with them. He also intimated that the program was using them to "collect skills". According to Crash, Nick is also an assassin. Last seen in the custody of several employees of the program, current whereabouts unknown.

Avatars:
The Kingdom of Yosemite: King Theodore Roosevelt aka King Teddy

Taking An Action by Paxamo