Miad
Jump to navigation
Jump to search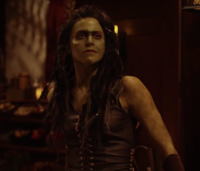 Miad is a orcmaid who works for Daggie at a tavern in JQS3. She slings drinks and sings a controversial songs. Miad gives advice to Wren about a rogue epic, and confronts a disguised Rilk when he visits the tavern.
Miad clearly cares for Daggie, and comforts her after Perf leaves. Miad assists in the standoff between Daggie and the Assassin, and gives Nara food for the road.
While trying to lock up the tavern, Silver Tom, Wren, Rilk, Grellnock, Yart, Glorion, and Roderick all manage to enter. She cleverly avoids Glorion when he visits the tavern.