Metaverse:Marcus
Jump to navigation
Jump to search
Player James Dean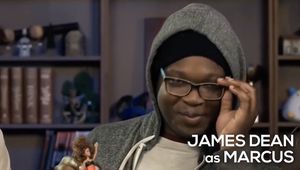 Previously known simply as The Operative, Marcus was brought in to assist the team during their time in Sentinel City. He was then seen again in the Kingdom of Yosemite before being attacked by a mysterious smoke monster which resulted in his metapod being damaged, as well as physical harm to his person. He was however able to make a fill recovery and join the team for their final attempt to extract the pilot, Nick Krieger.
While highly capable as a metapilot, Marcus has proven reluctant to share about his life or his past. When pressed, he said that it's no one's business why he's known as the Operative, that he's only there to do a job, and that he doesn't think of himself as having friends. By his own later admission, he was forced into the Program against his will.
Marcus has been described as the sort of man who oozes confidence and smells of expensive cologne.
Avatars:
Earth 06618 (Sentinel City): Hashtag Hashtag
The Kingdom of Yosemite: Wilbur Orville Wright