Brine-Shod
Jump to navigation
Jump to search
The Brine-Shod, (Quagashgakkulz), c.b. Nathaniel Luckett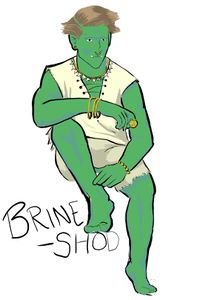 A dreaded collective of seafaring castoffs striking from an orc-made island. Everything's better with pirates.
This clan is made from outcasts (skeevy and shifty and rude). They stole their original ship, the Beer-Runner, from humans and have gradually been adding ships to this conglomeration ever since. This clan almost always limits their raids to non-orc settlements.
On this psuedo-landmass, a contingent of "Shark Priests" have started to form. Their unstable mages use arcane forces to coax the wind and seas to their bidding.
Among children of the Brine-shod, many babies are born bluer, or with webbed fingers and toes.

Return to Orcish Clans